ABOUT IALP
Vision
IALP has a global vision to facilitate better understanding, knowledge, and care of all those with communication and swallowing disorders.
Mission
The mission of IALP is to improve the quality of life of individuals with disorders of communication, speech, language, voice, hearing and swallowing.
We will
Facilitate science, education and clinical practice through international cooperation and collaboration.

Create and share knowledge, skills and information.

Provide a platform for international networking and advocacy.
The worldwide organization of professionals and scientists in communication, voice, speech language pathology, audiology and swallowing
The IALP is the only international organization working from a global perspective on scientific, educational and professional issues affecting persons with speech, voice, language, communication, hearing or swallowing needs. Additionally, the IALP is the only representative of communication disorders that is a delegate to the WHO , who also has informative and consultative status (category B) with UNESCO, UNICEF, WHO, ECOSOC and CIOMS.
I.A.L.P.'s mission is to provide a network that enables those concerned with these domains of assessment and intervention to work together, enriching their understanding by providing an opportunity to situate their work within broad multicultural perspectives. This expanded vision serves to inform practitioners' work on behalf of individuals with communication or swallowing needs, reducing geographical and political barriers through the highest levels of scientific inquiry and service
Through its meetings and publications, I.A.L.P. provides a venue for sharing recent research findings, educational and professional advances, and public information. Our members (including, scientists, physicians, speech-language pathologists, and researchers) work in over 57 countries and come from every continent around the world.
IALP works closely with the 58 Affiliated Societies that comprise its world-wide partners. The organization also has consultative status with the World Health Organization of the United Nations and works in association with the United Nations Department of Public Information. www.ialp.info.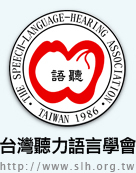 ABOUT TSHA
The Speech-Language-Hearing Association (TSHA) is the recognized professional association of Speech & Language Therapists in Taiwan
Advancing communication science

Facilitating and promoting opportunities for continuing professional education

Exchanging academic opinions with other professions in Taiwan and internationally

Providing publications on professional issues and up-to-date research

Creating assessments, diagnostic

tools

and therapeutic materials.
For more information, please visit us: www.slh.org.tw